Can Doraemon save the debt-crippled Japan Airlines?
Their stocks are plunging and they are preparing to file for bankruptcy, but that's not stopping the struggling Japan Airlines (JAL) from offering travelers the opportunity to fly with Doraemon, the beloved cartoon robo-cat.
According to a press release on the company website, JAL will begin operating the "Doraemon Jet" -- a Boeing 777-300 decorated with large colorful images of Doraemon characters -- on domestic routes (mainly between Tokyo Haneda, Sapporo, Itami, Nagoya, Fukuoka and Okinawa) beginning in mid-February.
The anime-themed aircraft is the result of a joint effort between JAL and the creators of the Doraemon movies to promote this year's annual Doraemon film, Doraemon The Movie: Nobita's Great Battle of the Mermaid King (a.k.a. Doraemon The Legend), which will hit theaters on March 6. This year marks the 30th anniversary of the Doraemon movie franchise.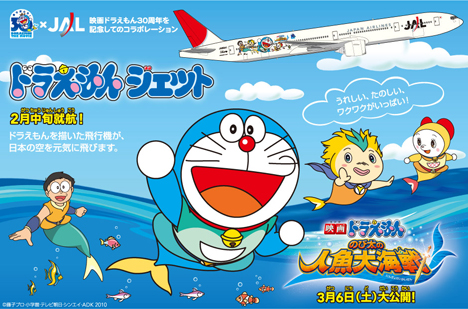 In addition to operating the Doraemon Jet, JAL will be offering Doraemon-themed tours to Okinawa from February 15 through April 30 with daily departures from Tokyo, Osaka, Nagoya, Fukuoka and Kitakyushu. The carrier will also provide a selection of Doraemon entertainment on domestic and international flights, as well as a Doraemon kids' corner at airports and limited-edition Doraemon goods through their in-flight catalog.
[Link: JAL]