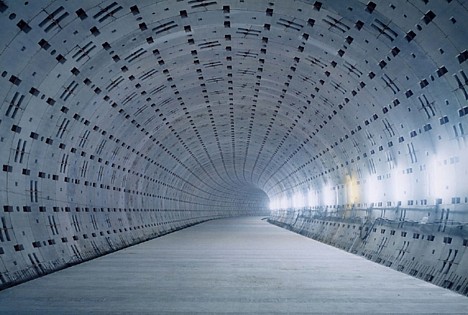 A vast subway system, extensive subterranean shopping arcades and miles of pedestrian tunnels make Tokyo's underground city a hotbed of human activity -- and a fertile source of mystery and intrigue. Here is a look at six of the most persistent rumors to emerge from beneath the city's streets.
* * * * *
Rumor #1: Government officials have access to secret trains.
The Tokyo subway system is the most highly used rapid transit system in the world, with an estimated eight million daily passengers using 13 lines run by two major operators (Tokyo Metro and Toei). Of the roughly 300 stations that make up the 300-kilometer (200-mile) network, few are as shrouded in mystery as Kokkai-gijidōmae station, located next to the National Diet Building in central Tokyo.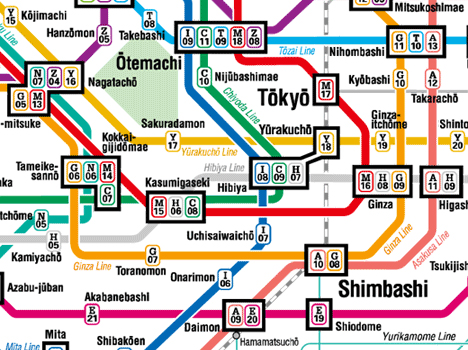 Two subway lines -- the Marunouchi and Chiyoda lines -- stop at Kokkai-gijidōmae station. The Chiyoda line platform is situated about 38 meters (125 ft) underground, making it the deepest station in the Tokyo Metro network (though many stations on the Toei Ōedo Line are deeper underground). Rumors claim the underground facility existed as an air raid shelter before it was renovated into a subway station in the 1950s. The station's depth and its proximity to the Diet Building has led to speculation that it is designed to function as a nuclear fallout shelter.
Kokkai-gijidōmae station is also rumored to have a secret door that connects directly to the basement of the adjacent House of Representatives Annex Building #2.
In addition, old construction blueprints of the Chiyoda line platform reportedly show an extra level even deeper underground. This concealed floor ostensibly houses a platform for special trains that transport government officials out of the city in the event of a major disaster.
* * * * *
Rumor #2: There is a nuclear shelter under the Diet Building.
Like Kokkai-gijidōmae station, the National Diet Building is suspected of hiding a few secrets. Rumors suggest the building has at least five underground levels (instead of just the one that the public knows about).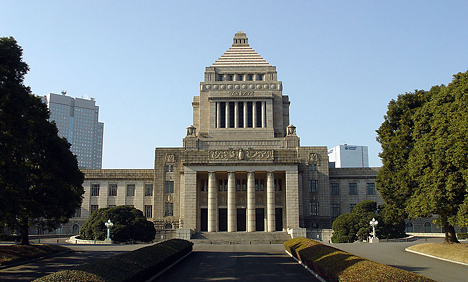 Is there a nuclear shelter beneath the National Diet Building?
These secret underground floors are believed to extend at least 38 meters (125 ft) underground and are rumored to include a bomb shelter and a tunnel leading to the secret subway platform beneath Kokkai-gijidōmae station.
* * * * *
Rumor #3: Secret tunnels link key buildings in central Tokyo.
Other nearby government buildings are also believed to be sitting on top of secrets. The Prime Minister's residence, for example, is suspected of having five levels underground, as well as a tunnel linking it to the Diet Building.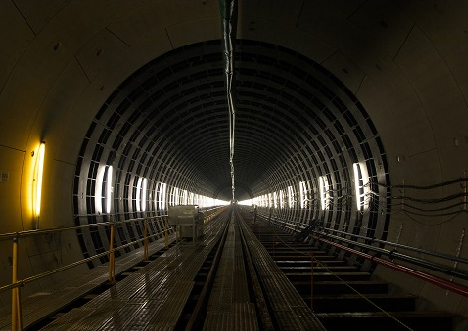 Azabu-Hibiya Common Utility Duct [Photo by Pirori]
There are also rumors of a network of tunnels linking important government buildings in central Tokyo. The oldest is an underground passageway connecting the old Tokyo Central Post Office building with Tokyo station. This tunnel, which was once used to transport mail back and forth between the buildings, was constructed in the early 20th century, well before the Ginza line (Tokyo's oldest subway) opened in 1927. Similar passageways are believed to exist between government ministry buildings in Nagatachō, Kasumigaseki, Ōtemachi and Marunouchi, as well as the Imperial Palace and Hie shrine.
This network of secret tunnels is also believed to include the National Diet Library, which houses about 12 million books and periodicals on eight underground floors. The floors are off limits to the public, and journalists have reportedly been denied access to the lower levels on multiple occasions, leading to suspicion that the library has something to hide.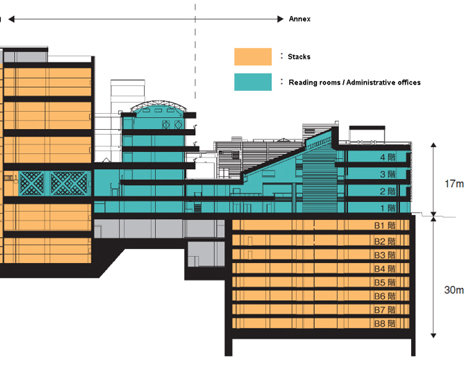 Floor plan of National Diet Library Annex
According to the National Diet Library website, the stacks were built underground in order to preserve the surrounding landscape. In addition, underground stacks are seen as more thermally stable, energy-efficient and cost-effective, as well as less vulnerable to earthquakes.
* * * * *
Rumor #4: The Ōedo line was built for military and relief purposes.
Another source of mystery is the Ōedo line, which runs in a 40-kilometer (25-mile) loop around Tokyo and intersects with every other subway line in the city.
The fact that the Ōedo line's 38 stations are situated as deep as 48 meters (157 ft) underground has led to speculation that they are designed to serve as nuclear fallout shelters.
Journalist Shun Akiba, who has written several books documenting the mysteries of the Tokyo underground, claims the Ōedo line tunnels existed long before the city decided to turn them into public subways. He believes the tunnels are part of a much larger subterranean complex built after World War II in preparation for a possible nuclear attack.
Whether or not this claim is true, the Tokyo Metropolitan Government is known to maintain a number of emergency warehouses at Ōedo line stations. The warehouses are stocked with food and supplies to be used in the event of a major disaster.
Here is some video that takes a look inside a 1,480 square meter (16,000 sq ft) warehouse located 20 meters (65 ft) beneath a Tokyo sidewalk.

+ Video
The warehouse locations are reportedly kept secret in order to prevent people from gathering at the sites after a disaster, though two are known to exist at Azabu-jūban and Kiyosumi-shirakawa stations.
The Tokyo Metropolitan Government has also conducted disaster drills on the subway line. In the year 2000, the government demonstrated, among other things, how Ground Self-Defense Force troops might use the Ōedo line in the event of a major emergency. As part of the exercise, dubbed "Big Rescue 2000," a special Ōedo line train transported troops from Nerima ward to a staging area in Shin-kiba (near Tokyo Bay). The exercise appears to have fueled suspicions that the line was built for military and disaster relief purposes.
* * * * *
Rumor #5: The Yūrakuchō line was built for military use.
The Yūrakuchō line is also rumored to have been built for military purposes. This speculation arises from the fact that key military facilities are located at several stations on the line, including Ichigaya, which is home to the Ministry of Defense headquarters, as well as Nerima, Heiwadai and Wakō, which are near military bases. Furthermore, Inariyama-kōen station on the Seibu-Ikebukuro line (an extension of the Yūrakuchō line) is near Iruma Air Base.
Rumors claim that Yūrakuchō line trains are designed to transport military supplies and personnel between these sites, if necessary. In addition, the tunnels have high ceilings, leading to speculation that they can serve as emergency underground roads for trucks and armored vehicles.
* * * * *
Rumor #6: There is a secret base under Shōwa Memorial Park.
Media reports have also speculated about the existence of a secret government base located beneath Shōwa Memorial Park in Tachikawa (western Tokyo). Although the government has offered no official comment on these reports, the claims are lent some credibility by the fact that the park is located near the Tachikawa Wide-Area Disaster Management Base, which is intended to function as a government backup site in an emergency. The US military's Yokota Air Base is also located in the vicinity.
[Note: This is the latest in a series of weekly posts on Japanese urban legends. Check back next week for another report.]