Lingerie maker Triumph International Japan has unveiled a new concept bra designed to appeal to the hardcore female golfing enthusiast.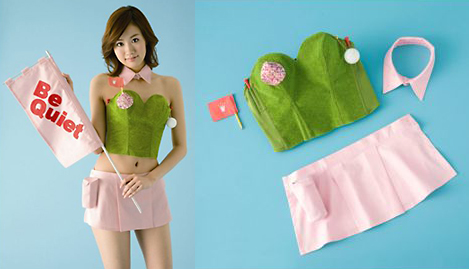 Called the "Nice Cup In Bra," the lingerie consists of a grass-green top that, when removed, conveniently unfurls into a 1.5-meter-long putting mat. When the user sinks a putt into one of the cups, a built-in speaker pumps out a cry of "Nice shot." (Watch a short video.)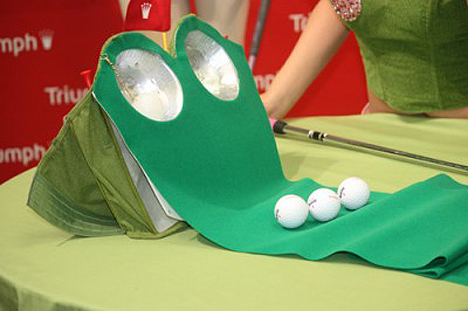 In addition to functioning as a practice mat, the bra incorporates features that can come in handy on the course, such as pockets for storing extra balls and tees, as well as a detachable flag pin that doubles as a score pencil.
The bottom half of the lingerie consists of a detachable pink skirt with the words "Be Quiet" printed in bold letters on the rear. When removed, the extra-short skirt can be used as a flag to encourage onlookers to remain silent.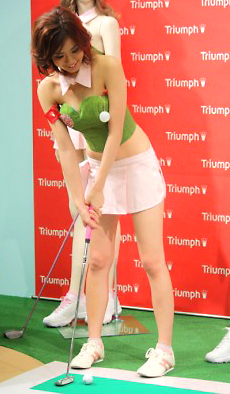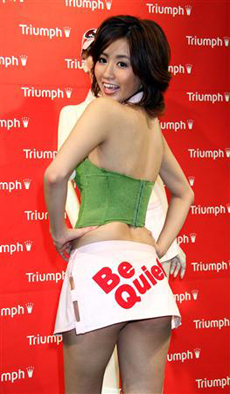 According to the maker, the Nice Cup In Bra -- which is not yet for sale -- was created in response to the growing popularity of golf among females in Japan, and is designed to appeal to busy working women looking for a unique and convenient way to practice their putt.
Twice a year, Triumph International Japan unveils a new concept bra that highlights a popular trend or draws attention to social issues. Previous Triumph bras include the Marriage-hunting Bra, Shopping Bag Bra, Solar Power Bra, My Chopsticks Bra, and Voter Turnout Bra.
[Source: Walkerplus]