Animals with human-like faces have long been rumored to exist in Japan. In recent decades, countless people have reportedly encountered human-faced dogs (jinmenken) around town and on the highway.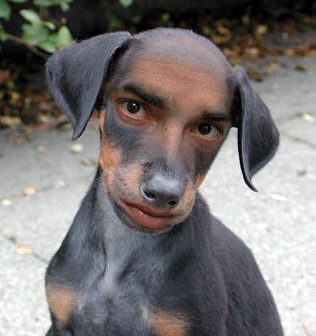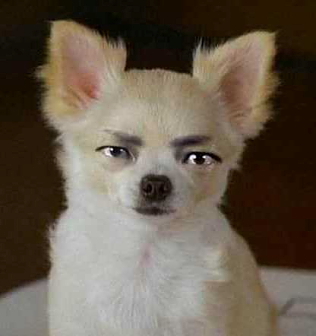 The modern-day explosion of alleged human-faced dog encounters began in the late 1980s and early 1990s. According to numerous stories, human-faced dogs are most frequently seen at night, usually by people taking out the trash. At first glance, the creature may look like an ordinary stray dog rummaging through the garbage, but closer inspection reveals a face that looks human.
Many stories claim the human-faced dog speaks when confronted. In a weary voice, it most often says, "Leave me alone."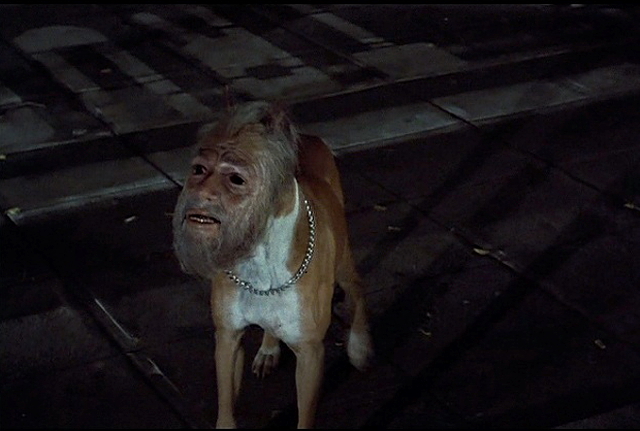 Mutant dog with a human face in "Invasion of the Body Snatchers" (1978)
Other human-faced dog encounters allegedly take place on the highway. The creature can reportedly run at speeds of over 100 kilometers per hour (60 mph). It is said that any vehicle passed by a speeding human-faced dog on the highway will have a terrible accident.
Numerous theories claim to explain the origins of the human-faced dog. Some suggest the creatures may be experimental human-animal hybrids that have escaped from a biotech lab. Others claim they are mutants spawned by environmental pollution. And while some people suspect the creatures may be the spirits of people who have died in traffic accidents, others speculate that they are ordinary dogs possessed by the restless ghosts of office workers who have taken their own lives after being laid off (the dogs usually have the face of a middle-aged man).
This video claims to show a human-faced dog filmed outside a housing complex in Kamata, south of Tokyo (the dog's face is said to belong to a missing office worker):

+ Video
Still others believe that human-faced dogs are spiritual beings, and only people with the ability to sense the supernatural can see them. Whatever the explanation, it is probably best to keep away -- it is said that anyone bitten by a human-faced dog will turn into one.
The oldest known stories of human-faced dogs in Japan can be traced at least as far back as the Edo period (1603 to 1868). According to the Gaidan Bunbun Shuyo -- a book by 19th-century historian Ishizuka Hokaishi that chronicles events from 1804 to 1830 -- a human-faced dog was born in the Tado-machi area of Edo (present-day Tokyo) in June 1810. After learning of the strange creature, a carnival sideshow manager acquired it and featured it in his show, where it proved to be a popular attraction.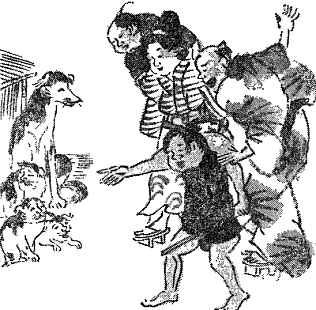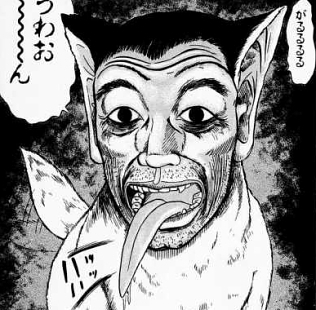 Left: Illustration from "Gaidan Bunbun Shuyo" shows people looking at a human-faced dog (1810)
In those days, a superstition claimed that syphilis patients could cure themselves by fornicating with canines. This human-faced dog was rumored to be the offspring of such a union.
[Note: This is the latest in a series of weekly posts on Japanese urban legends.]