A mysterious doll possessed by the spirit of a child has captured the curiosity of people across Japan for decades. The legendary Okiku doll, named after the girl who long ago used to play with it, is a 40-centimeter (16-in) tall kimono-clad figure with beady black eyes -- and hair that grows.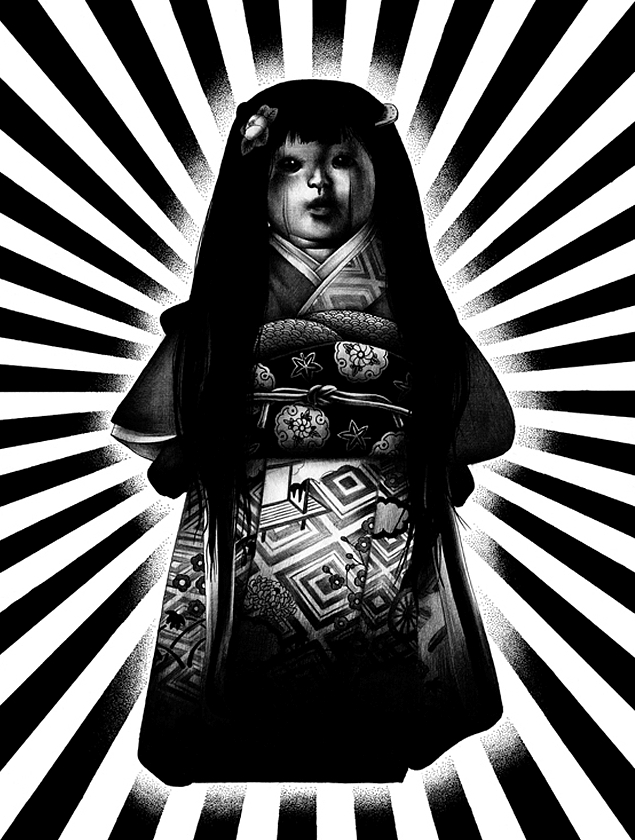 Okiku doll illustration by Shohei Otomo
The Okiku doll has resided at the Mannenji temple in the town of Iwamizawa (Hokkaido prefecture) since 1938. According to the temple, the traditional doll initially had short cropped hair, but over time it has grown to about 25 centimeters (10 in) long, down to the doll's knees. Although the hair is periodically trimmed, it reportedly keeps growing back.
It is said that the doll was originally purchased in 1918 by a 17-year-old boy named Eikichi Suzuki while visiting Sapporo for a marine exhibition. He bought the doll on Tanuki-koji -- Sapporo's famous shopping street -- as a souvenir for his 2-year-old sister, Okiku. The young girl loved the doll and played with it every day, but the following year, she died suddenly of a cold. The family placed the doll in the household altar and prayed to it every day in memory of Okiku.
Some time later, they noticed the hair had started to grow. This was seen as a sign that the girl's restless spirit had taken refuge in the doll.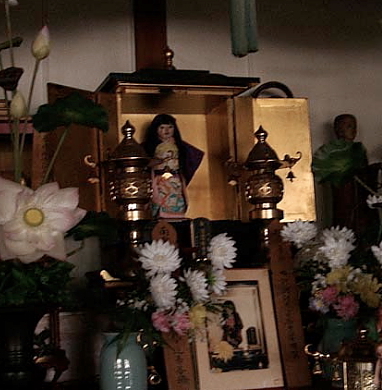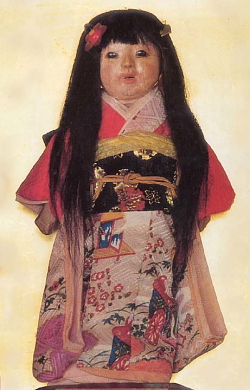 Okiku doll at Mannenji temple [via]
In 1938, the Suzuki family moved to Sakhalin, and they placed the doll in the care of Mannenji temple, where it has remained ever since.
Nobody has ever been able to fully explain why the doll's hair continues to grow. However, one scientific examination of the doll supposedly concluded that the hair is indeed that of a young child.
[Note: This is the last in a series of weekly posts on mysteries and urban legends from Japan.]