Popular Science recently put its entire 137-year archive online. Here are a few summaries of some of the older, more captivating stories about Japan from the collection.
* * * * *
"Can We Blast Japan from Below?" (January 1944) is an article by an eminent geologist who proposes bombing Japan's volcanoes as a strategy for winning the war.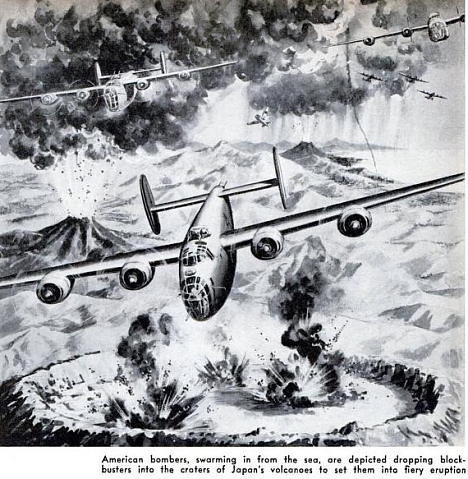 Given Japan's seismic instability and the explosive nature of volcanoes, dropping bombs into volcanic craters might, in the words of the author, "cause such a vomiting of lava and ash as to hasten the day of unconditional surrender."
* * * * *
"Japanese Home Life" (May 1893) examines daily domestic routines, including the telling of ghost stories around the fireplace at night. The article includes a spooky tale about shape-shifting badgers.
* * * * *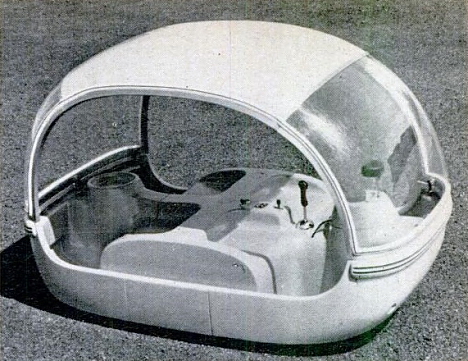 The January 1971 issue includes a short article about a "Wankel/electric hybrid concept car from Japan," an environmentally-friendly urban transport vehicle that resembles a helicopter cockpit.
* * * * *
"Upside-down Skyscrapers Proposed in Japan" (January 1929) describes a proposal to build an 80-floor subterranean building that descends 1,100 feet below ground. The envisioned structure -- dreamed up by architects seeking earthquake-proof designs after the Great Kanto Earthquake of 1923 -- would include electric lights, telephones and high-speed elevators, and would cost an estimated $11 million to complete.
* * * * *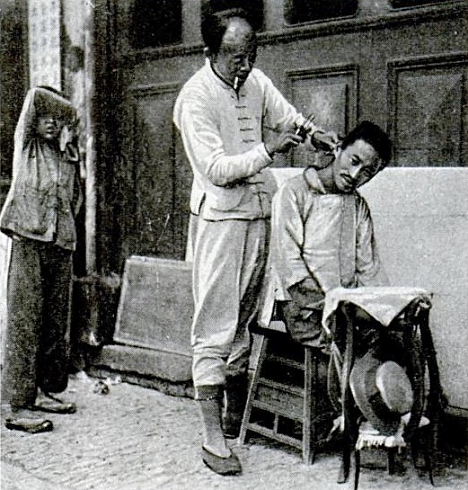 "Nasty Job This -- Cleaning Customers' Ears" (October 1917) takes a brief look at what used to be a common service provided by Japanese barbers.
* * * * *
"Odd Rules Hamper Our Cars Abroad" (October 1930) examines some of the peculiar difficulties that American automakers faced when trying to sell cars abroad. In Japan, for example, the law used to forbid private citizens from owning maroon-colored cars -- this color was reserved for the royal family. Yellow cabs also proved to be unpopular because, according to the article, the color is associated with mourning. Japanese laws also required tail-light switches to be located at the rear of the vehicle, and special mudflaps had to be attached whenever it began to rain (to prevent pedestrians from being splashed). Taxis also had to be outfitted with two horns -- an electric horn and and a bulb horn -- and it was customary for each taxi driver to employ an assistant whose primary duty was to operate the auxiliary horn as they sped through the streets.
* * * * *
"Strange Medicines" (October 1887) discusses the spread of Western medicine through Japan. The author explores the back streets of Osaka in search of traditional medicine and explains, among other things, the old-school trade of kuroyaki (charred animals).
* * * * *
"Japan's Greeting to the New Year," (May 1921) briefly describes a Japanese New Year practice where children put on fantastic masks made of paper.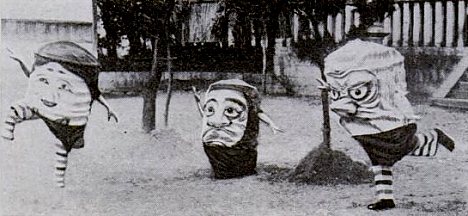 According to the article, the symbolic masks often represent traditional figures and "have a special meaning, other than just being grotesque."
* * * * *
"Animal and Plant Lore" (July 1891) examines the use of human saliva in various forms of folk medicine from around the world. The article presents a Japanese folk remedy for curing the numbness in the lower extremities that inevitably occurs when sitting too long with legs folded in the traditional formal style. To restore feeling in your legs, you should wet a piece of straw with saliva, stick it to your forehead, and chant "shibire kyo e agare" -- lit. "numbness, go up to Kyo (Kyoto)."
* * * * *
The February 1964 issue includes a long and wordy advertisement for a $1.98 booklet that teaches the secret art of Yubiwaza, an easy-to-master self-defense technique that turns one's finger into a powerful weapon.

According to the ad, Yubiwaza is an "effective means of defense against hoodlums, bullies, wise guys and juvenile delinquents who respect neither lives nor property."