Here's a peek at a few creatures profiled in Yōkai Jiten ("Yōkai Encyclopedia"), an informative guide to 100 of Japan's traditional monsters, written and illustrated by manga artist Shigeru Mizuki in 1981.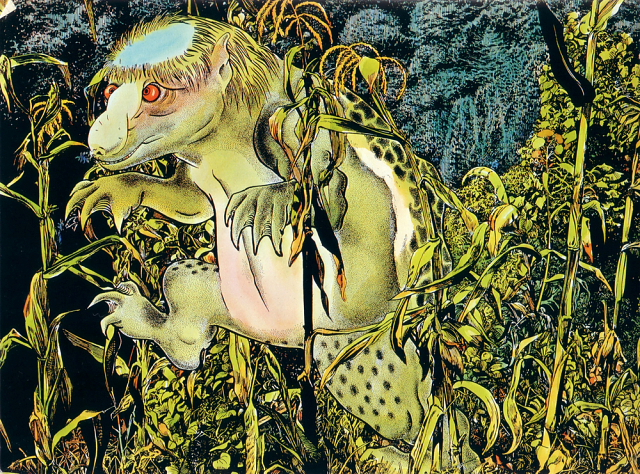 Suiko [+]
The suiko (lit. "water tiger") is a king-sized variety of kappa living in and around the Chikugo River (Kyushu), Lake Biwa (Shiga prefecture), and other bodies of water across Japan.
In addition to prowling around at night and making mischief, the suiko has the power to possess people. Those possessed by a suiko descend into a temporary state of madness, but they recover quickly after the creature withdraws.
At least once a year, the suiko drags a human victim into the water, sucks out his blood, and returns the body to shore. It is best not to have a funeral for the victim of a suiko attack. Instead, the body should be left on a wooden plank inside a small thatched hut in a field. If done properly, this course of action causes the flesh of the suiko perpetrator to slowly rot until it dies.
* * * * *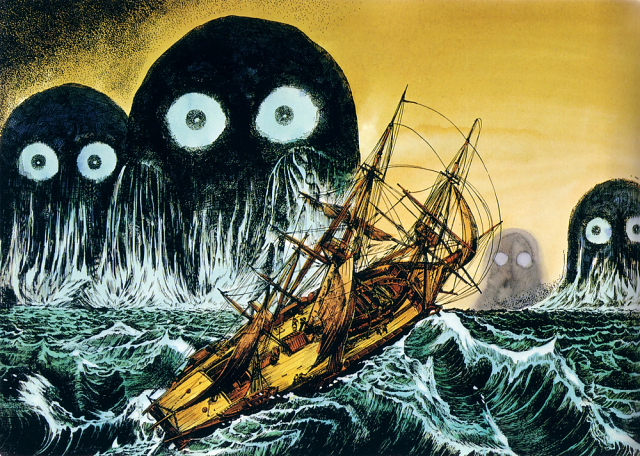 Umi-bōzu [+]
Umi-bōzu are giant black bulbous beings that live in the sea. Sometimes they have glowing eyes and a beak, and other times they have no facial features at all. To survive an umi-bōzu encounter at sea, one should remain quiet and look in the opposite direction. Speaking or looking at the creature may send it into a rage -- and that usually ends in tragedy.
* * * * *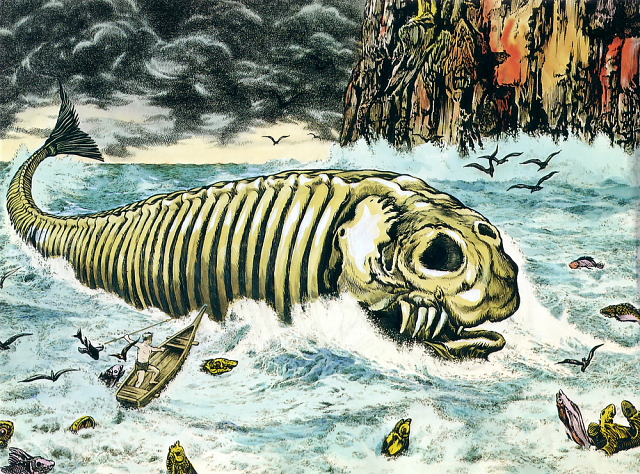 Bake-kujira [+]
Long ago, a mysterious sea creature known as the bake-kujira (lit. "ghost whale") used to appear at night in the waters around an island in Shimane prefecture. The thing looked like the skeleton of a giant whale, and it was usually accompanied by a flock of strange birds when it came drifting in with the tide. Later, when the tide started to recede, peculiar fish would become visible in the water around the monster. Fisherman trying to catch the bake-kujira claimed their harpoons passed through the creature as if it were not there.
* * * * *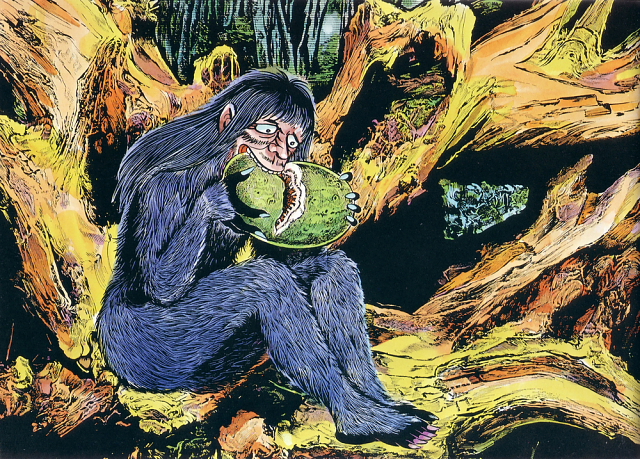 Satori [+]
The satori is a type of mountain-dwelling goblin that can read human minds. When it encounters travelers passing through the mountains, the creature approaches them and begins speaking their thoughts aloud. Once the victims become thoroughly confused and disoriented, the satori captures and eats them.
It is said that an empty mind is the best protection against a satori attack. Thinking nothing at all causes the creature to turn away in boredom or flee in fear. A notorious satori named Omoi lives on the slopes of Mt Fuji.
* * * * *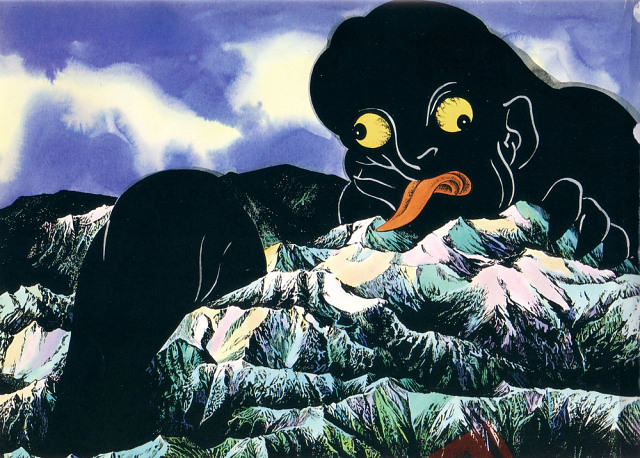 Ōnyūdō [+]
The ōnyūdō (lit. "large monk") appears in numerous Japanese folk tales. His appearance varies from story to story, but he is always big, ranging anywhere from 2 meters (6 ft 6 in) tall to as large as a mountain. In most cases, the ōnyūdō is a malevolent figure that can cause people to fall ill simply by looking at them. Some stories describe him as a fox or tanuki (raccoon dog) that has shape-shifted, but in most stories his true identity is a mystery.
* * * * *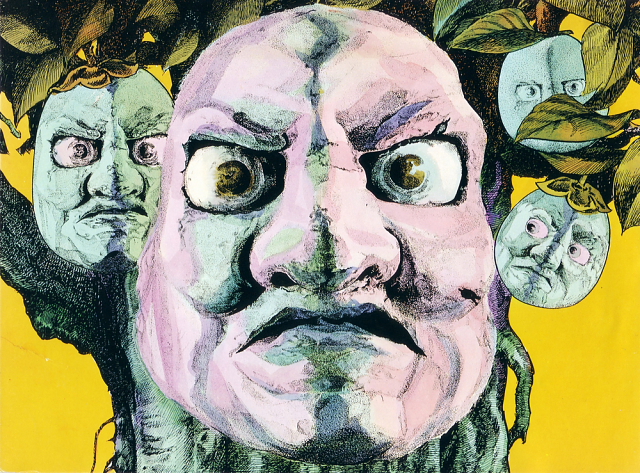 Tankororin [+]
One type of ōnyūdō, called tankororin, is known to spring forth from untended persimmon trees. The fruits transform into tankororin if left unpicked on the tree for too long.
* * * * *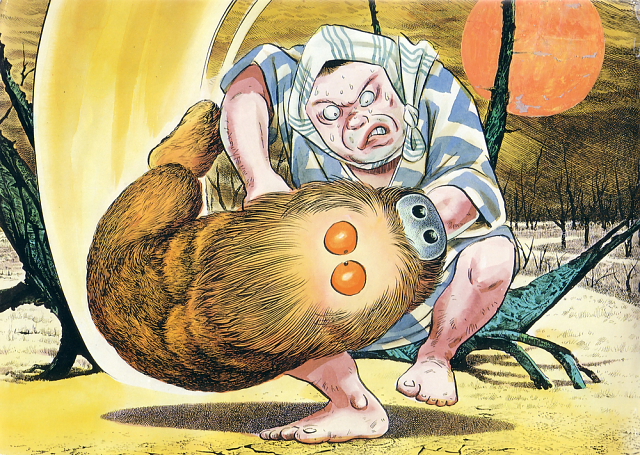 Bakki [+]
The bakki is a furry creature with eyes on top of its head. It measures 60 to 90 centimeters (2 to 3 ft) long and usually appears as a blur because it runs so fast. The bakki is regarded as a great threat to the environment, as it causes moisture to disappear wherever it goes. Plants and trees wither, crops fail, and ponds evaporate. The only way to eliminate a bakki is to capture it and submerge it in dirty water.
* * * * *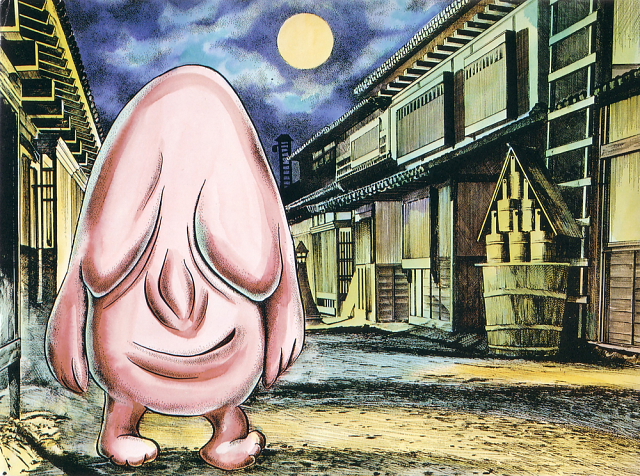 Nuppefuhofu [+]
The nuppefuhofu (a.k.a. nuppeppo) is a man-sized lump of decaying human flesh usually found hanging around old abandoned temples and graveyards. Aside from the creature's massive flabs of flesh, the only features are its arms and legs -- and its horrid smell. The nuppefuhofu enjoys long aimless walks after dark, and it appears to derive satisfaction from frightening people on the street at night.
* * * * *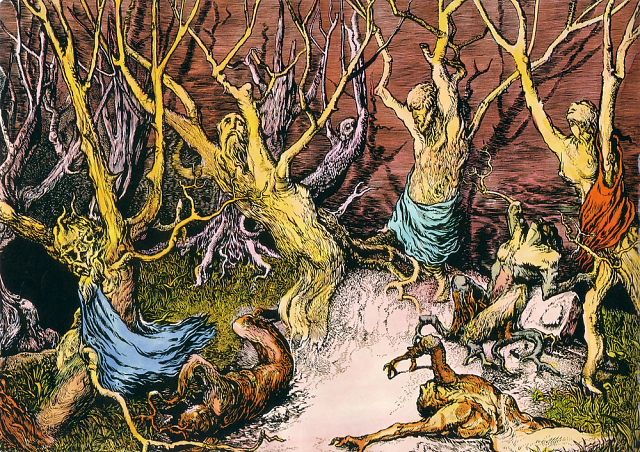 Koboku-no-kai [+]
Koboku-no-kai are spirits of old trees. One such tree spirit was encountered by Tarōemon, a man who lived in Niigata prefecture long ago. One drunken night, Tarōemon noticed a prowler standing next to the old tree in front of his house. He stepped outside to confront the stranger, and they started fighting. Tarōemon subdued the man and managed to drag him inside, only to discover that he had transformed into a large tree branch. The next morning, Tarōemon took the branch to a nearby temple. The resident priest told Tarōemon that the old tree in front of his house was occupied by a spirit. After the priest recited a chant, the tree never caused any trouble again.
[See also: Anatomy of Japanese folk monsters]