Eromanga Island, a tiny island in the South Pacific nation of Vanuatu, has been swallowed up by rising sea levels, according to a long-standing rumor in Japan.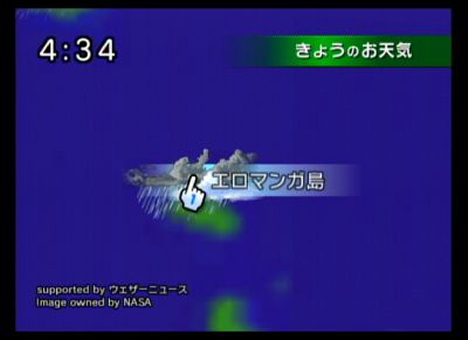 View of Eromanga Island on the Wii weather channel
Erroneous news about the island's watery demise appears to have begun ten years ago as a tidbit of fake trivia presented on a popular late-night TBS Radio program hosted by comedian Hikaru Ijuin. Some listeners apparently took the information at face value, and word of Eromanga's fate began to spread. The rumors were further fueled when a subsequent TV program mentioned Eromanga as an example of an island that had been submerged by rising sea levels caused by global warming.
Years later, some people still evidently believe Eromanga has disappeared.
To Japanese speakers, the name of the island might sound more incredible than the rumors of its disappearance. Eromanga (エロマンガ) happens to be the Japanese word for erotic manga (i.e. "porno comics"). The unlikely name, which conjures up images of an exotic place overflowing with adult comic magazines, even inspired Osamu Tezuka, the godfather of manga, to take a trip there with fellow manga creator Ichiro Tominaga.
In the local language, Eromanga (also spelled Erromanga or Erromango) means "it's a man."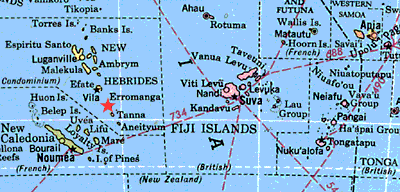 Interestingly, there is an element of truth to the rumors of Eromanga's disappearance. In recent years, Japanese map makers have adopted a new spelling -- イロマンゴ (pronounced "iromango") -- which appears to more accurately reflect the native pronunciation. So even though Eromanga has not been swallowed up by the sea, it has, in a sense, been wiped off the map.
[Note: This is the latest in a series of weekly posts on Japanese urban legends. Check back next week for more.]