Department store operator Sogo & Seibu has announced plans to sell two humanoid robots custom-built to look like the people who purchase them.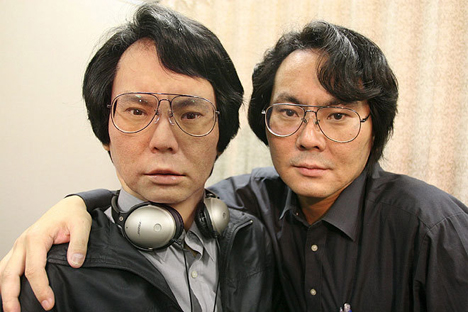 Roboticist Hiroshi Ishiguro already got his
The mechanical doppelgangers are available for a limited time as part of a special New Year's promotional sale at Sogo, Seibu, and Robinson's department stores. They will be built by Japanese robotics firm Kokoro, which is perhaps best known for its line of Actroid receptionist humanoids.
In addition to providing the robot with the owner's face, body, hair, eyes and eyelashes, Kokoro will model the robot's facial expressions and upper body movements after the buyer. The robot's speech will be based on recordings of the owner's voice.
Orders will be accepted from January 1 to 3 at any of Japan's 28 Sogo, Seibu, or Robinson's department stores. Only two robot twins are available, but given the hefty price tag of 20.1 million yen ($223,000) each, the stores will likely be hard-pressed to find any takers. If more than two orders are received, the purchasers will be selected in a random drawing.
[Source: IT Media]