In the early 1990s, Japan's Power Reactor and Nuclear Fuel Development Corporation (PNC) -- a nuclear energy research organization which is now part of the Japan Atomic Energy Agency (JAEA) -- created a pro-nuclear PR cartoon entitled "Pluto-kun, Our Reliable Friend." The aim of the animated film, which features the company mascot Pluto-kun, is to dispel some of the fears surrounding plutonium. Scroll down for a rough summary.

+ Video
[~1:30] The video begins with Pluto-kun disguised as a ghost. He explains that much of the fear surrounding plutonium is due to misconceptions. He says that it is very unfortunate that plutonium is used in nuclear weapons [like the one dropped on Nagasaki]. But he hates war! He loves to work for peace. He aspires to be like dynamite, whose power has been used for the benefit of mankind.
[1:30] Pluto-kun provides some basic information about plutonium. He explains that plutonium is created from uranium in nuclear reactors. He also says it was discovered by the US scientist Glenn T. Seaborg in 1940, and that it was named after the dwarf planet Pluto. (See Wikipedia for more.)
[2:30] Misconception #1 -- Pluto-kun addresses the fear that criminals could obtain plutonium and build a nuclear weapon. He explains two reasons why this would be virtually impossible. First, weapons require plutonium with a purity of at least 93%, but plutonium from reactors is only about 70% pure. A high level of technology would be required to produce weapons from this plutonium. Second, a high level of security is maintained around plutonium in Japan, making it all but impossible to steal.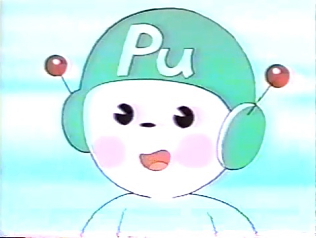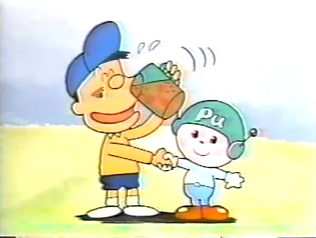 [4:00] Misconception #2 -- Pluto-kun addresses the fear that plutonium is deadly and causes cancer. Plutonium's danger to the human body stems from the alpha radiation it emits. Because alpha radiation is relatively weak, it does not penetrate the skin, and plutonium is not absorbed into the body if it comes into contact with skin. He explains that you would not die instantly if you were to drink plutonium. If swallowed, the vast majority simply passes through the digestive tract without being absorbed. If it enters the blood stream (through a cut, for example) it cannot be removed easily from the body. It accumulates in the lymph nodes before ending up in the bones or liver, where it continues emitting alpha radiation. Plutonium can also get into the liver or bones if it is inhaled into the lungs. It is important not to breathe it in or allow it to enter the blood stream.
[6:00] No human is ever known to have died because of inhaling or ingesting plutonium.
[7:00] Pluto-kun explains what would happen if criminals dumped plutonium into a reservoir that provides our drinking water. Plutonium is heavy and it does not dissolve easily in water, so most of it would sink to the bottom. Even if you were to drink plutonium-laced water everyday, the vast majority of it would simply pass through the digestive system without being absorbed by the body.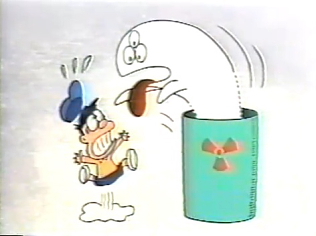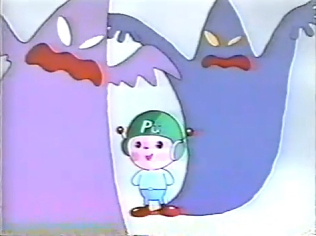 [7:30] Pluto-kun suggests that the dangers of plutonium are often overemphasized, making it seem scarier than it actually is. He explains that most people associate plutonium with deadly radiation and nuclear weapons, but he likens this to a fear of non-existent ghosts.
[9:40] Pluto-kun explains that he is not a monster, and he asks you to understand who he truly is. As long as people use him peacefully and with care, there will never be any danger or anything to fear. He will provide an endless source of energy for a long time to come. He will be a reliable friend.